Locations:
The workshop will be held in various buildings of the Texas Medical Center. Click on the map icon below to download a multi-page PDF file of the workshop sites, incuding hotel info and MetroRail stations (print this on a high resolution color printer):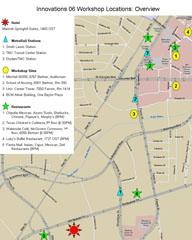 The workshop program begins on Monday April 17 at 5PM with a reception outside McGovern Commons, followed by lectures at 7PM in the Mitchell BSRB building (see pages 4 and 5 of the above guide).
Here is an online listing of workshop locations and the corresponding times when these sites will be in use:
For more information see also
Directions
,
Lodging
, and
Getting Around
.